Carolina Artists We Tapped In With In 2023
Published on March 1, 2023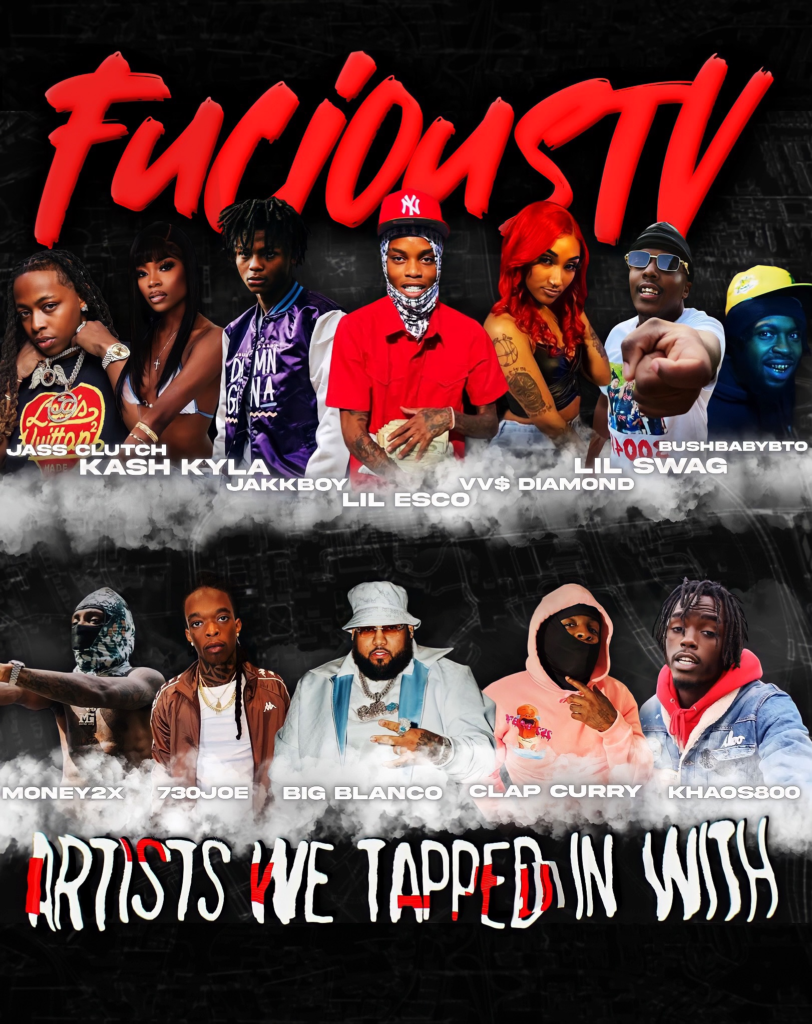 When it comes to rap, there's something to be said about the movement that's currently taking place in the South. For the most part, hip-hop has been wildly popular on the East Coast. At least that was the case until groups like Goodie Mob and OutKast, or rappers like T.I., Lil Wayne, and Gucci Mane breathed new life into the game. The latter being credited for inventing trap music: a subgenre of hip-hop that praises the 'hustle by any means' mindset. Beyond the aesthetics, rap has continued to evolve in more ways than one. And no other region is putting on for the newcomers quite like The Carolinas – North and South. With that being said, Fucious TV highlights some of the most promising artists on the rise coming out of the Carolinas.
1. Lil Swag
Lil Swag is a fast-rising rapper from the southside of Raleigh, North Carolina. Most notably, his song "John Wall" has become a viral hit for its association with the basketball icon of the same name. Aside from Wall being from Raleigh himself, the track (and much of Lil Swag's catalog for that matter) carries a true-to-life feel. With his forthcoming album, Chosen Star, due February 3rd, the Raleigh riser is well on its way to becoming more than a regional star.
2. 730 Joe
730 Joe is a product of the streets and he's not afraid to show it. From his Raleigh roots to getting co-signed by former XXL Freshman Toosii, Joe has all the tangibles needed to thrive in today's rap climate. With new music on the way, the street-centric rapper is primed to prove that he's more than what meets the trap, especially as it relates to his rhymes.

3. Jakkboy Jay
Jakkboy Jay is one of South Carolina's buzzing artists on the rise. The 17-year-old rapper has made a name for himself off the strength of his raps, something that feels as bulletproof as it sounds. Plus, he's developed a reputation for his rapid-fire flow, backed by a Southern drawl that complements his young and reckless mindset.
4. Money2x
Money2x is a lifestyle rapper in the truest sense. Since his inception in hip-hop, the Fayetteville newcomer has taken the genre by storm. Whether he's stepping in the name of cash, or flexing on his opps throughout, one thing remains constant: Money2x stays true to himself.
5. Lil Esco
Lil Esco is putting on for the city of Gastonia, North Carolina. He's braved the streets while trying to make a name for himself in rap, dropping song after song while growing as an artist. Whether he's lacing beats with his signature style of flex rap, or penning the soundtrack to making plays, Lil Esco is quietly becoming a standalone talent amongst his contemporaries.
6. Clap Curry
After a five-year stint in jail derailed his rap career, Clap Curry returned better than before. His music draws inspiration from the life he lives, leaving no ink in the pen as he writes his way into the ear of listeners. From the trenches to the recording studio, the Greenville rapper is a product of his environment – someone who managed to turn pain into profit by using his words.
7. Kash Kyla
Kash Kyla is the next female emcee to blow out of North Carolina. After a successful run in the freestyle circuit, the Charlotte rapper made a name for herself by releasing a steady stream of increasingly popular singles. As an independent artist, she's amassed millions of views on YouTube for her content. But what's most impressive about the young star is her ability to flip the switch at the drop of a dime, lyrically speaking – proving that she has the talent to go bar for bar with the best.
8. VV$ Diamond
VV$ Diamond is one of few stripper-turned-rappers that really live what she raps about. She leaves no room for confusion, sharing her truth over hard-knocking trap beats as a means of catharsis. A hard-knock-life makes for good material as she raps her way through the pressure.
9. Big Blanco
Big Blanco is used to being in the limelight. Since he started rapping, the Rocky Mount native has grown more comfortable with his style of flex rap, which wasn't a hard transition to make because he's always had motion. However, beyond the money and drip, he's a family man at heart, doing whatever it takes to provide a better life for his loved ones. It's also important to note that he's worked with Money Man and CMG artist Big Boogie.
10. Jass Clutch
Jass Clutch is an entrepreneur-turned-rapper that didn't let her surroundings determine her future. Growing up in Henderson, North Carolina wasn't easy. Candidly speaking, she went through hell and back just to become who she is today. Her skepticism towards others is warranted, as evidenced by the one-liners that speak to being betrayed – but all the hate did was fuel her ambition for paper chasing.
11. BushBabyBTO
One thing is for certain, BushBabyBTO knows how to make a walk-down anthem. With more weapons at his disposal than tools in Bob the Builder's kit, the "Switch Party" creator is trigger-happy in the truest sense. Granted, the bulk of his material revolves around hypothetical scenarios, but that doesn't change the fact that he's one bar away from being the most sticked up rapper in Rocky Mount.
12. Khaos800
Khaos800 is a street-centric rapper from Goldsboro, North Carolina. Without a doubt, Khaos is a product of his environment, but that hasn't stopped the independent bruiser from rapping his way into regional acclaim. Through a pocket of steadily improving singles (like "Hate Opps," "Getbakk Gang," and "Off The Head Freestyle"), he's managed to carve out his own lane while staying true to himself, and his hood. As he continues to drum up buzz for a style of rap that leaves his opps second guessing their next move, Khaos is proving that there's more to GBG than the music, brotherhood, and lifestyle he so proudly boasts about.